CSS076: PULSO
[DJ Set]
11122021
Text. Mara Peralta
CULTIVATED SOUND 076.


Welcome back to our new mix and feature program. CSS076 featuring Argentinean producer, DJ and label owner Pulso. We invite you to listen to a special one hour techno set. Pulso is the owner of electronic msucio label SRIE records, his label focuses on Sci-Fi and mental space.
PULSO IS A PRODUCER, DJ AND LABEL OWNER IN BUENOS AIRES, ARGENTINA.
LISTEN TO
CSS076
WITH
PULSO
HERE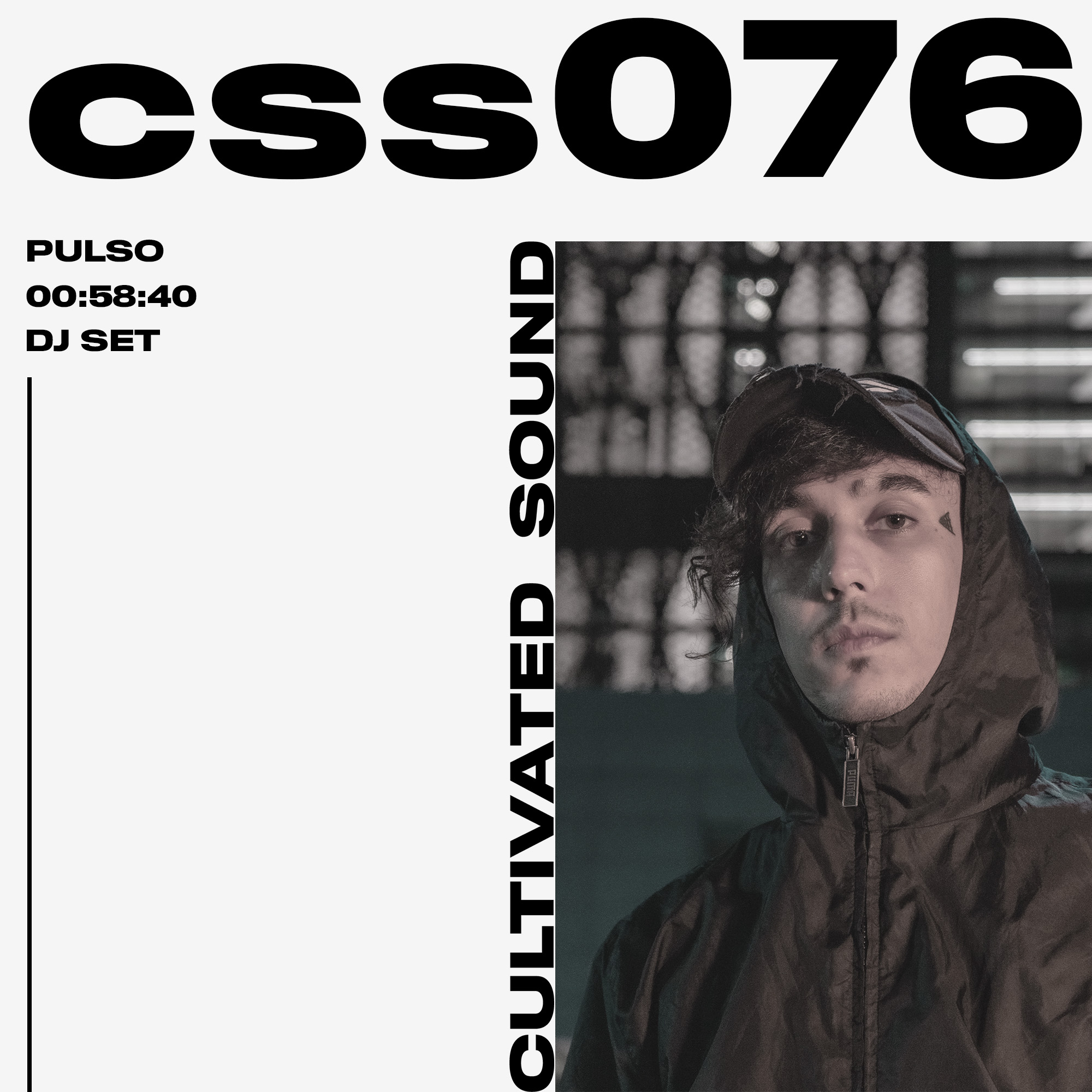 OUR INTERVIEW WITH
PULSO
What are some of the focuses you had when you recorded this set?I focus always on deliverying hypnotic sessions to inner dance moves.


Pulso: I focus always on deliverying hypnotic sessions to inner dance moves.
What are some of your current musical influences? What record speaks to you and is an evolving inspiration for you to make music?
Pulso: I'm influenced by some minimalistic artists like DJ slip, Mike Parker, Planetary Assault Systems, Mika Vainio, Aleksi Perala, I usually seek this artists to learn how to keep the essence and autenticity.
Can you tell us a little bit about the scene in Buenos Aires? What are your favorite clubs there?

Pulso: The scene in Buenos Aires is a bit small. I don't participate a lot for gigs and events, just working nowadays with Kulture booking and i'm getting more proposals from other countries.
Can you tell us about your background and stories? How did you get into making music?
Pulso: The background is simple: I found my way to arase problems when young, and I feel still confortable with the electornic music like a therapy to afford my days.
What does "listening" mean to you as a musician and music collector?

Pulso: Listening is the moment when i can separate all sounds one by one and identificate the massage in an instrinsic way.Every last detail is the key to get the final result.


We love your upcoming release 'Spatial Bonds' with various artists on your label SRIE Records what was your main mission for this release?
Pulso: The mission of SRIE is always the same: We offer music from this planet, influenced by the dreamy life away from here, but accepting the time we are in, escaping from the Earth with the music stories.

Are all the artists on this compilation all latinos or artists that live in Argentina? What are your upcoming plans for the label?
Pulso: The artists involved are from the world wide, we focus on proper works, without caring about country.The label is looking for more physical releases, althought its difficult for us to earn the money, we are getting more support every month so we are reaching our plans slowly.
What type of gear are you using and do you prefer to play live or DJ and why?
I work just with one computer, i dont have any more.And my setup is DJ set, playing music like a spiral, from start to finish.
RECENT RELEASES FROM

PULSO
Zona Escéptica
LISTEN HERE
Released July 21, 2021
Sociedad de fomento

LISTEN HERE

R

eleased January 15, 2021
UPCOMING >> RELEASES
Semantica (LP-cassette), Kimochi (vinyl) & KEY with Translate (vinyl)

SOUNDCLOUD > HERE
INSTAGRAM >

HERE
Last track that moved you?

Last Alva noto´s album is ace.

What's the best club you've played at? Cocoliche, in Buenos Aires. it doesnt exist any more.

Favorite album to relax to?
Aleksi Perala: Colundi Vol 2

Favorite producer?
Not favorite, just big and respectable producers I mentioned before.


Next city you would like to write and play at?
Any city on Europe is my next goal.
---
CSS076 SOUND SOURCE
Svreca - Jade
Discknocked - Anxiety
Translate - Geophysics
Albert Chiovenda - Somnium
Axling & Pulso - Unreleased
P4PS - Undici
Jeroen Search - Orbital Radius
Orbe - Posthuman Being
Mike Parker - Kinetic Statues
Alva Noto - Uni DNA
Translate & Pulso - Switching Myself Into Pointless
Echelon - Shadow Weaver
PTTRN - Lost 1
David Reina - Future Technosignatures
Pulso - LH710
Oscar Mulero - Straight Line
Steve Bicknell - Searching
Alexander Johansson - Polymorphism 9
Mike Parker - Shakuhachi Two
Danilenko - Licking Toads Under The Bridge
Alva Noto - Prototype 10
---
11122021.
Interview by Mara Peralta