CULTIVATED SOUND
CSS071: COLIN SELF
[DJ Set]
Text. Chamberlain Zhang
CULTIVATED SOUND 071.

Incoming CSS071 Mix and Feature from experimental artist, choreographer, and composer Colin Self. Colin is residing in New York and Berlin where he creates a wide range of music and performance pieces designed to expand consciousness, trouble binaries, and play with the boundaries of perception, reaching a broad range of communities using voices, bodies, and computers as tools to interface with biological and technological software. This mix features acoustic and electronic sounds with focuses on nature and human relations, theatrical ambience with diverse sonic textures throughout. Presenting a ritualistic, and meditative narrative that transcends listeners to a beautiful world Colin creates with many genres of music combined together.

Self is a teacher at New York University's Clive Davis Institute in Berlin, and has presented work at The Dutch National Opera, HAU Berlin, The New Museum, The Kitchen NYC, and Issue Project Room, among many international festivals and venues. He is a Rhizome Commission Grant recipient for his video project ClumpTV, and a Queer Art Mentorship Fellow. He served as an Eyebeam Resident in 2016 and a resident fellow at Etopia for FUGA in Zaragoza, Spain in 2018. He is a co-founder of the New York City queer performance collective Chez Deep and The Radical Diva Grant. He received his MFA in music and sound from Bard's Milton Avery Graduate School of the Arts.


COLIN SELF
HERE
COLIN SELF IS AN ARTIST, COMPOSER AND CHOREOGRAPHER BASED IN NEW YORK AND BERLIN.
OUR INTERVIEW WITH
COLIN SELF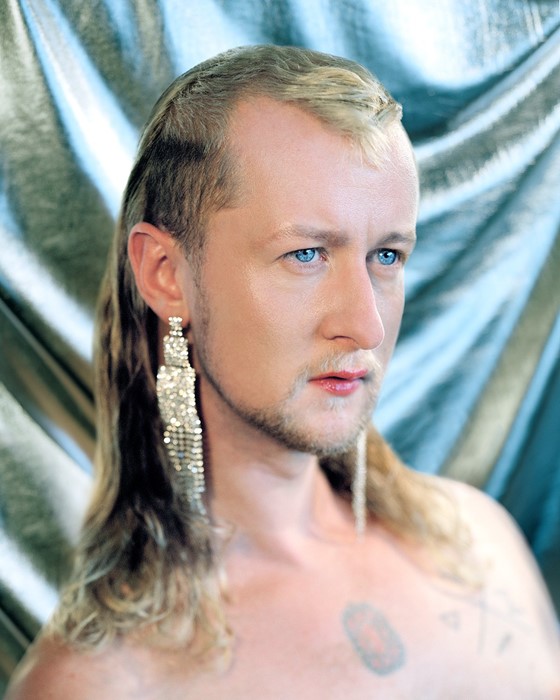 How did you get into making sounds? What influenced you at first?
COLIN SELF: I made my first songs with a CZ-101, zoom drum machine, loop pedal, and microphone that I had bought on Craigslist or borrowed from friends. I was living Olympia studying puppetry and experimental writing, drawn to this place from the history of riot grrls and faggots who were into building alternative systems.


What is the connection between choreography and music composition?
COLIN SELF: I know there are so many possibilities that can be discovered. I was in a lot of musicals growing up, so those two things were intrinsically interwoven for me. I never studied dance properly but used to go to the library and watch VHS tapes of Trisha Brown and Darren's Dance Grooves. When I saw Biba Bell and her group A.U.N.T.S. I realized choreography and composition are not separate : both are chaotic twins who rely on one another to make meaningful experiences.
How did you get into writing opera and choreography?


COLIN SELF: I think it all started hanging out at media libraries and by going to the Time-Based Art festival in pdx as a teenager. I didn't like opera and I didn't like a lot of dance so I decided I wanted to change what these words "Dance" and "opera" meant. I found friends who wanted the same and a history of people wanting to do the same and
Can you tell us about your work SIBLINGS that mixed many mediums together? How did it come about and how did you execute it?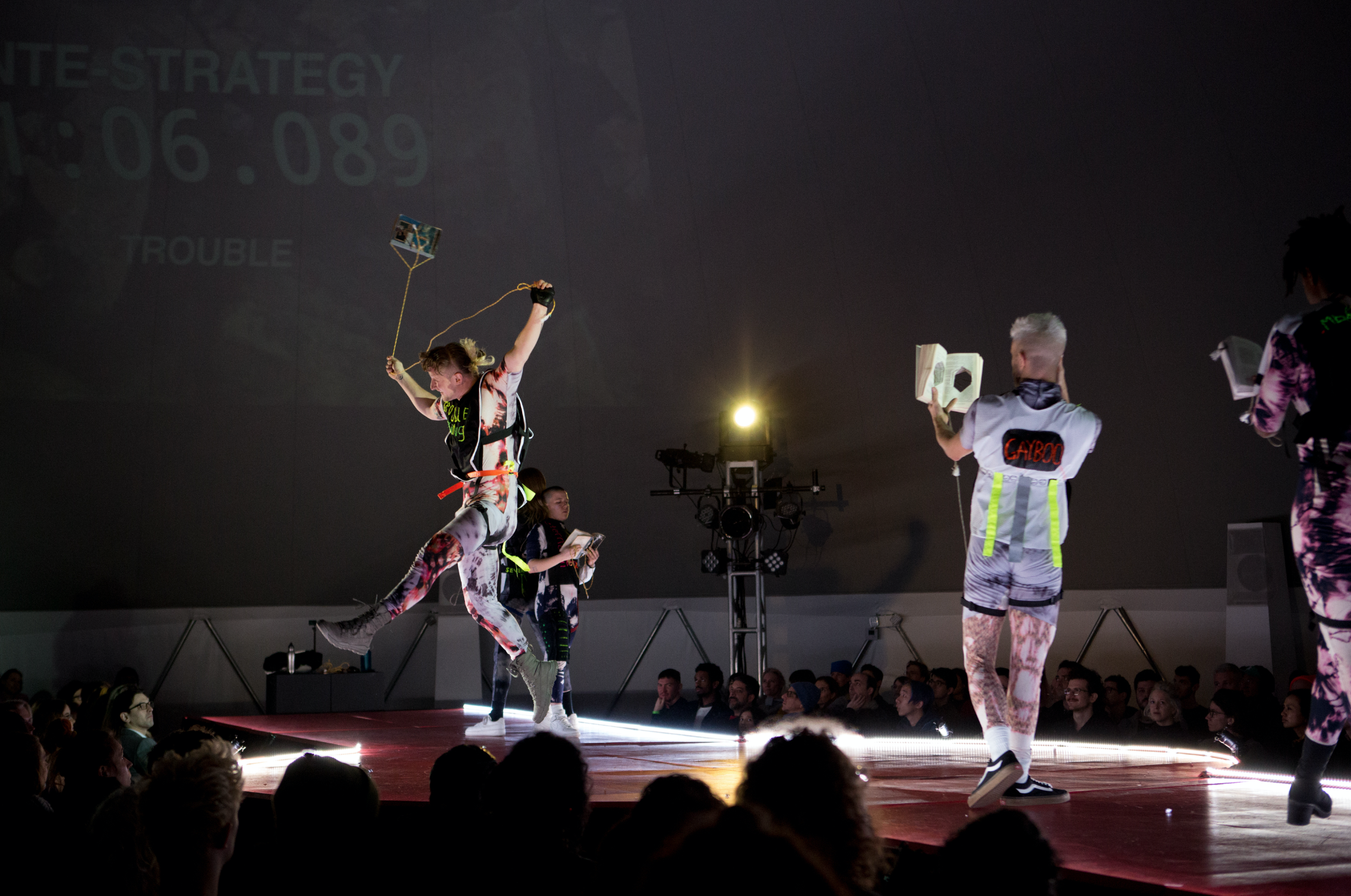 Photography by Maria Baranova

COLIN SELF: SIBLINGS was the sixth and final opera from a series called ELATION that started in 2011. I made in in research with Tara-Jo Tashna, Lyra Pramuk, lexi welch, and Sam Banks. It was essentially a project in which the five of us were trying to figure out how to survive and take care of each other in a times of systemic collapse.


---
In his practice, Self works across media with many collaborators. He has made music for various choreographers, including a score with Miguel Gutierrez for Jen Rosenblit and Simone Aughterlony's Everything Fits in the Room. He works closely with Holly Herndon and has performed with her touring ensemble since 2015, including direct support for Radiohead as one third of the Holly Herndon trio. He has also served as the vocalist for electronic duo Amnesia Scanner). Additionally, Self runs XOIR, an international non-utilitarian vocal workshop focused on alternative modalities of group singing.

From his early years experiencing Riot Grrrl shows around his adolescent home of Oregon, to his involvement with Brooklyn's avant-performance collective Chez Deep, Self's work reimagines "DIY" instead as "Do-It-Together." This ethos has influenced his career-spanning Elation series, a six-part opera about queer family and global transfiguration that has included sculpture, video, recording and performance.



The first installment of the series was recontextualized as a recorded album — Self's debut, Elation, released in 2015. Part IV, The Fool, was initially presented at Issue Project Room and later, The Kitchen, in 2017. Co-created with Whitney Biennial-featured artist Raul Nieves, The Fool also featured Alexandra Drewchin (Eartheater) and queer theorist/artist Mehron Abdollmohammadi.


In 2018, Self signed to experimental record label RVNG Intl. to launch Siblings, the final installment in the Elation series. Inspired by the work of Donna Haraway, Siblings places a non-biological family at its center; the characters, bonded by curiosity and caring, generate ways of collectively coming together on a damaged planet. At its core, Siblings is a proposal for interdependence, critical joy and an expansive sense of being.

Self's latest release is Orphans — a digital addendum to Siblings, as well as its prequel — featuring previously unreleased material culled from the Siblings universe, as well as a newly imagined version of "Survival" by Planningtorock. At Orphans' nucleus is the eternal child, left to their own devices to survive through pleasure-seeking, creative community-building, and imaginative strategizing. Orphans arrives November 12, 2019, almost exactly a year after Siblings, in eternal digital edition.
What is your advice for creatives like you to actualize their work in an established venue?
COLIN SELF: Don't worry about the established venue. Don't let it be the main goal. Make your own venue on a rooftop or basement or a forest of parking lot of a grocery store. Establish offline communities, go to the library and read and watch things. Follow the words of Octavia Butler and build your own world. The precomposed world is fucked and the established venues aren't as fun as they seem! The underground weird community shit is way better.

What do you think is the musicians role at this fragile time in human history? What are your ideas toward the social aspect?

COLIN SELF: I don't know actually! I'm trying to figure that out. I think music is alchemical and can change people and change the world. I think it can help us feel empathy and compassion and be a guiding language for understanding difference and potential for new ways of seeing. I think as always, music right now has to do a few things: create healing, be a space for reparations for QTBIPOC, be a space of resistance against homogeneous thinking and expression, and pull the unseen into our collective imagination. We have to destroy the corporate marketplace of streaming and capitalist-driven modalities. We have to kill the idolization of wealth and it's aesthetics. We have to amplify those voices who can show us a world outside capitalism and remind people that there will always be alternatives in the margins, making space for difference.
---
CSS071 TRACKLIST
Thomas Brinkmann - 0001
Eve Essex - Colorless Stone
Autechre - 2008-04-04 USA-California-Los Angeles
Ursula K. Le Guin & Todd Barton - Lullaby - Lahela
Lovefingers & Timkoh - Brown Bread
Dean blunt - as long as ropes unravel fake rolex will travel
The Soft Pink Truth - Protest and Survive (Discharge cover)
Valaam Brethern Choir - Agni Parthene
Barnt - Chappell
Elysia Crampton Chuquimia - Amigos No Sufren edit [2012]
Juliancito Waly - los walys de Juliancito Huali santiago olvidarte nunca
Maja Ratkje - Acid (mixed with porcupine voices)
Lanark Artefax - Touch Absence (intimidating Stillness Mix)
Masahiro Ikumi - Virtual Mama [Voice Version]
Steve Reich - Clapping Music
Wafiq Azizah - Balik Kanan Wae
Max Tundra - Libial
---
LISTEN TO MORE FROM

COLIN SELF
FADER MIX
LISTEN HERE
The multidisciplinary artist delivers an "ambulatory mix made for moving in space."
UNSOUND FESTIVAL
LISTEN HERE
Colin Self's ethos is not DIY, but Do It Together. The American artist is well known as a member of Holly Herndon's ensemble, runs Xhoir - a vocal workshop for group singing and listening.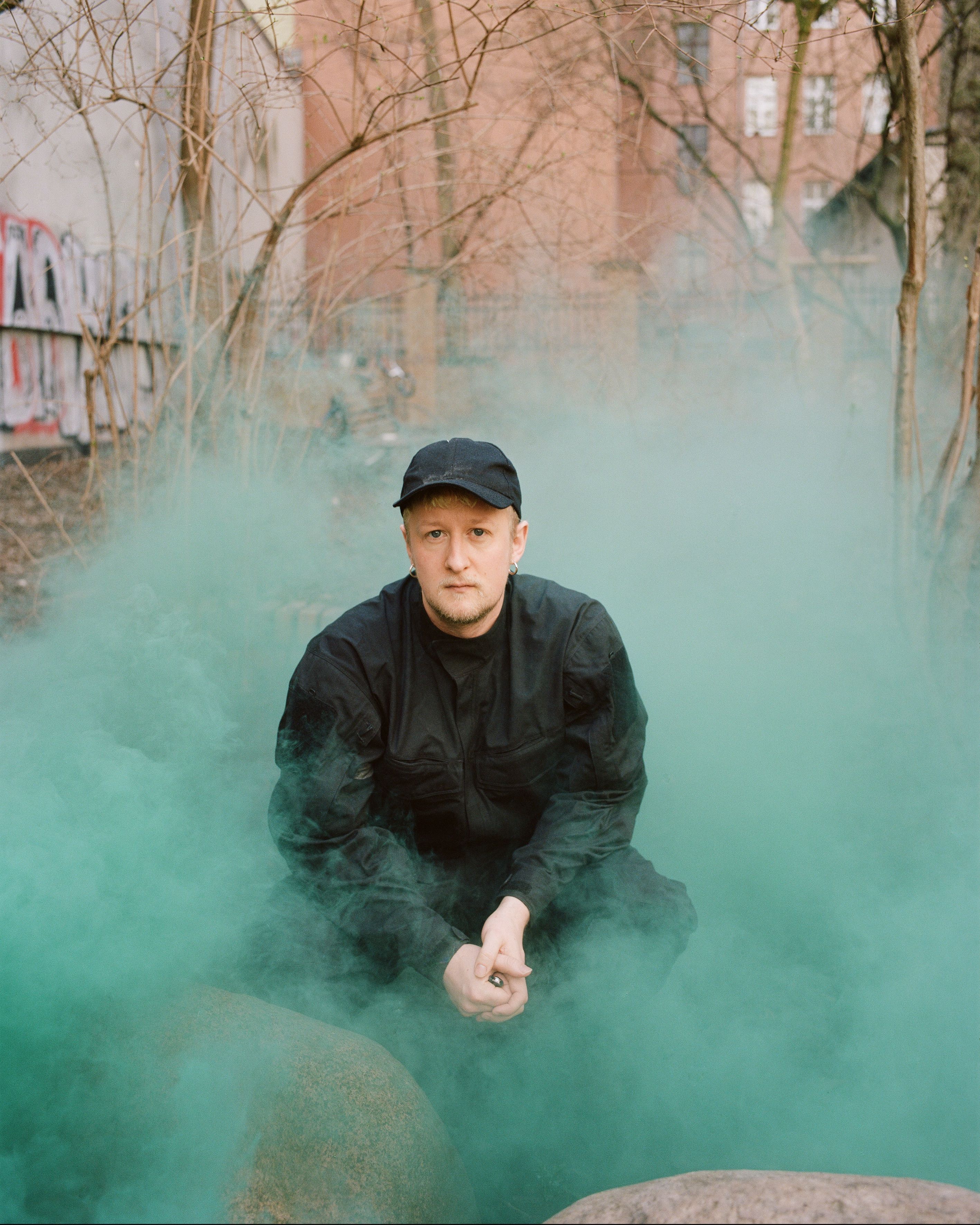 UPCOMING RELEASES
Colin Self - Four Prayers Volumes 1 & 2 (Fall 2020)
Colin Self & Santiago Latorre - Architecture of Friendship (Winter 2021)
NEXT PERFORMANCES:
Missa Solemnis - Oct 5-7 (Berlin)
Frau Musica Nova - Nov 28 (Cologne)
LATEST MUSIC FROM
COLIN SELF
---
Orphans is a satellite in the orbit of Elation, Colin Self's speculative multi-act, sci-fi operetta that conceptually concluded with the 2018 album Siblings.

In part a prequel to Siblings, Orphans continues to center non-biological family storytelling based on the forgotten, unnamed, and marginalized. At Orphans' nucleus is the eternal child, left to their own devices to survive through pleasure-seeking, creative community-building, and imaginative strategizing.

09112020.