CULTIVATED SOUND
CSS066: Arthur Kimskii
[DJ Set]
12072019.
Text. Chamberlain Zhang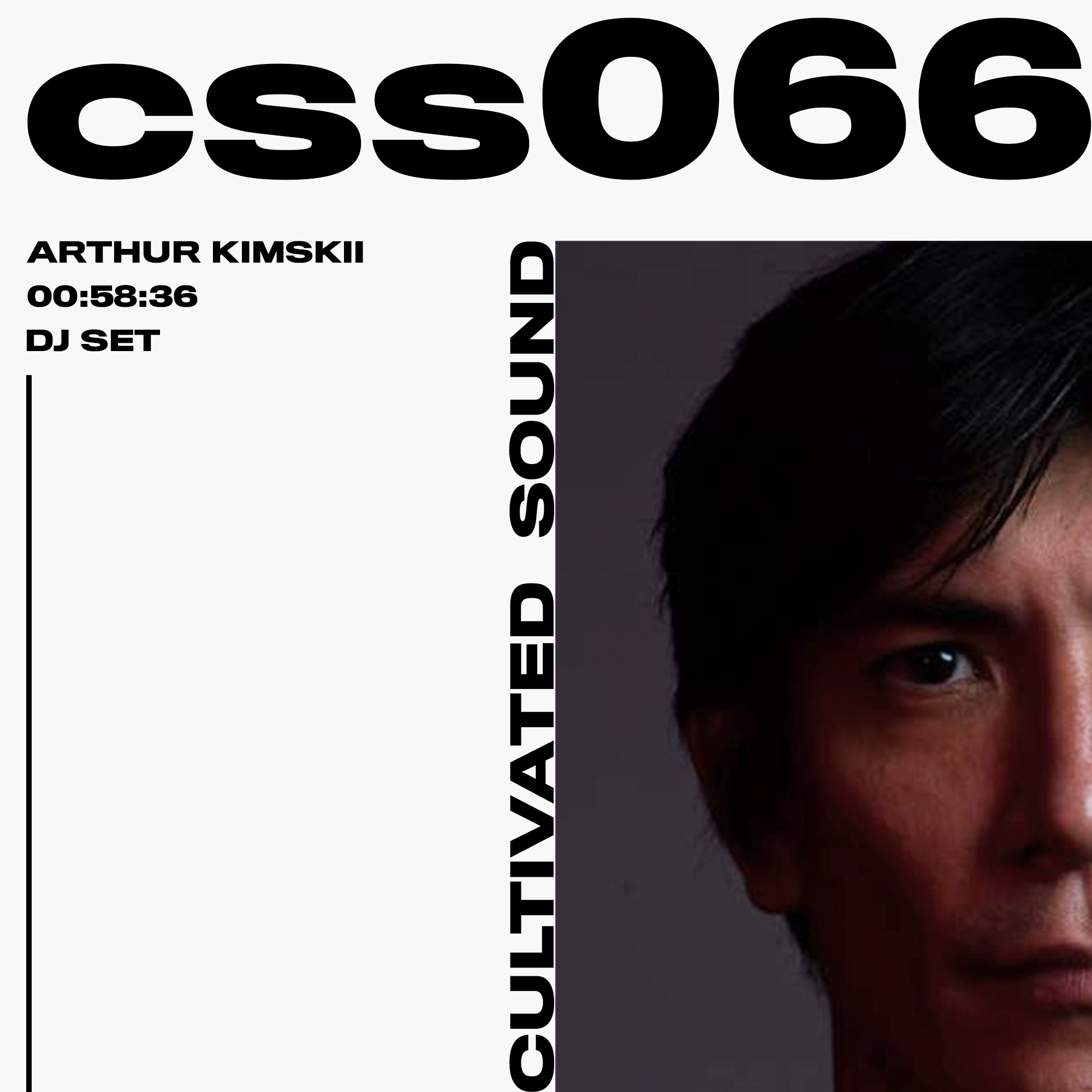 Cultivated Sound Session is back with a new set by Arthur Kimskii. We are very inspired by the stories he shared with us in this interview, Arthur has been an important figure from the underground techno reality in the US. He lived in NYC from 2002 till 2013 and then went to Berlin and worked at the Recordloft together with Jon Hester, Dj Richard, and Hinode. Arthur gave Answer Code Request his L.A.G. record with Cory James while he was working at Recordloft. Answer Code Request ended up playing "Hippie" at Berghain, Berlin was very exciting at that time for him and many friends and artists. We are humbled and happy to introduce CSS066.

2019 has been a fruitful year for Arthur Kimskii. In May he launched the Bi-Monthly Sprüdel in his hometown of Washington D.C. hosting out of town guests such as Vincent Neumann, Young Male, Motiv-A, Andi (Synthicide), and Heidi Sabertooth along with some of the best dj's and producers locally; such as Rush Plus, Juana, and Tommy Cornelis. Prior to returning to the U.S. in December 2016 Kimskii spent 3 years in Berlin where he played storied venues such as About Blank, Griessmuehle, Ohm, Tresor, and Chalet and pushed forward his imprint L.A.G. releasing music from Artists such as Jon Hester, Jeff Derringer, Jamaica Suk, DJ Richard, Hinode, as well as himself. Berlin is also where both his Production and DJ skills were pushed further. He also worked at the legendary Record Loft.

From 2002 to 2013 Kimskii resided in NYC where after taking a hiatus from dj'ing he returned to the art form in 2009. He was involved with various events such as Tar & Feathered and was in a duo along with Cory James as Point Break. In 2012 L.A.G. was launched out of Brooklyn with Point Break's Sidewalks E.P.

Since returning to the U.S. and landing back in D.C. Kimskii has played with the Sequence Crew (D.C.) several times, New York , Miami, and Grand Rapids, Michigan and has an E.P. and another track on a V.A. released on Many Yuzovskaya's Monday Off. Forthcoming releases include tracks contributed to Jamaica Suk's Gradient Sound , Sophia Saze's Dusk & Haze as well as Mysteries of the Deep.

2020 will see the return of L.A.G. with Cory James' return to the label as a solo artist.
---
How did you get into techno and DJing in general?
Arthur Kimskii: I had always been obsessed with music and the collecting of it from an early age. I had heard about techno and raves when I was in high school in 92. I had pretty strict parents so I never went to an actual rave until 93. While I was in high school I did sneak into a club called tracks where I heard a lot of house and industrial for the 1st time. I never thought it was possible for me to become a dj until I was in University. My roommate at the time had turntables and mixer. I started to go to parties in Pittsburgh which was a little over an hour away from where I went to school in West Virginia and started to collect records. That lead to buying turntables. My roommate and I then opened up a shop which lead to us throwing some parties. I then started cutting my teeth in little club nights and house parties. This was around 97.
Can you tell us about your ideas for this mix? What were you thinking about when you record this set?
Arthur Kimskii: I was booked to play DC24, which was to be a 24hr party this past September as a seven crew collaboration in Washington D.C. It was supposed to start at 10pm in a warehouse, go till 9am then switch to an Outdoor venue at 10am and go till 10pm. I wanted to stay true to myself but knew that I was going to be playing to a cross section of electronic music fans. So, I bought some records that were a little more dance floor flavored and that were a little bit more "funky' and not so dark. I was preparing for my set which was supposed to happen at 6:30am when I found out that the party had been shut down before it started. I ultimately was asked to close the party the next night during the outdoor portion of the event. The catch was that I had to go on after Martyn and that I had to play on CDJs, of which I had only played out on maybe 3 or 4 times prior. The set went surprisingly well. Afterwards, one of my oldest friends Dan and his wife invited me to hang out and stay the night out at their house in the burbs. Their kids were staying with their grandparents and we had the rare opportunity to just hang out. I brought my record bag which had been packed for the warehouse as they have a really sweet studio set up.

The next morning I recorded the mix in one take. The concept of the mix is what might had transpired had I played in the warehouse.

Can you tell us some stories about L.A.G
Arthur Kimskii: Cory James and I were working on music for about a year and a half before making "Sidewalks" . We felt like we had finally produced something worthy of releasing. We sent it to Anthony Parasole who offered some great advice and was he was interested it in but after discussing it with Cory I decided to start a label. Thus L.A.G. was created in 2013 with the Sidewalks E.P. by Cory and I as Point Break. The record got a ton of support by some of our favorite artists such as Silent Servant and Fred P. A big thrill was getting a bunch of texts saying Juan Aktins was playing our record. The second release "The Split" was a four track E.P. There were two original cuts from Point Break as well as two cuts from our friend Jordan Polling aka Jordan. I was racing against the clock to get the record done before moving to Berlin in 2013 (Nov). I started working in the record loft shortly after moving there. I gave Answer Code Request him the new L.A.G. record while I was working there. He ended up playing "Hippie" at Berghain, What a thrill it was to hear it there.

"Meet Us at Loft", A various artists record was the Third release. It features all artists who were also working at the record loft at the time. Jon Hester, Dj Richard and Hinode all gave me dope cuts for this release. The was 1st time I released as a solo artist. Everyone on this record went on to do great things. Jon has released on labels such Dystopian, Klockworks, and now Transmat.

Mario one half of Hinode has been putting out great electro and techno under the name Exterminador and his record Bad Manners 2 launched Marcel Dettmann's new label Bad Manners. Mateo has gone on to release one of my favorite tracks of the last 4 years called "Supernova" on his own Gravitational Waves imprint as DJ Nephil. DJ Richard continues to release thought provoking tunes of the highest quality on labels such as Dial and recently on Flexxseal.

"Ballorama" LAG004 from Jeff Derringer was an exciting release for me for a lot of reasons. I had only released original music at this point ; however, Jeff always had remixes on his records. After going through a couple of options we agreed upon Cassegrain. I was given two options for remixes of the title track. One was a dancefloor burner and the other was more of a side room "experimental' type of cut. I choose the later. Years later when Alex and I had become good friends he told me that he would have bet anything that I would have chosen the dance floor cut and gained respect for me for the choice. Also the the B1, "Work Ethic" till this day is one of my favorite tunes on the label.

"Simple Enough To Come True" the 5th release was my first solo e.p. It was charted number 11 in Groove Magazine and I had the thrill of hearing all 3 cuts being played at Bargain at various points. The "Kontort" E.P. from Jamaica Suk was the 6th release on the label. Jamaica had released some music digitally but this was the 1st time she had had her music pressed. 'Holographic' really pulled on my heart strings. The 1st time I heard it I closed my eyes and could see Charlie Brown, Snoopy and the gang dancing with glee. I told Jamaica this and this is when she told me that she was born in the same town that Charles Schulz came from. There's a statue of Charlie Brown in the entrance of this town.

Forthcoming LAG007 "Uplift" by Cory James, Cory and I went through a period where we weren't communicating, I ran into him at Berghain and we spent the whole day together and then kept in touch after he went back to New York. We agreed that he should return to the label and he started sending me tracks. He has 3 original cuts on the record and I did a remix for my 1st time ever. We got the test press and were ready to roll with it and then I had to come back to the states unexpectedly. This was 3 years ago and the label has been on a unplanned hiatus. The label will move forward in 2020 and relaunch with Uplift on both vinyl and digital formats.
What does "listening" mean to you as a performer and also a music collector?
How do you manage your collection when your preparing a gig? Do you know what you will play before a gig?

Arthur Kimskii: The collector and the performer for me is often one in the same. Listening to music is often a bit different then just hearing it, as something in a tune captures me to actually listen and thus be present with it. It's why I still love collecting and playing vinyl. It's easy for me to skip through a tune or a dj mix when I'm checking it out digitally whether it's on the Internet say through Soundcloud/YouTube or on iTunes. If I'm listening to a record it has to really not be my taste for me to skim through it hastily, especially at home. Sometimes my hand will reach for the needles but I'll let it ride. A big reason why I still buy vinyl is that I'll often "discover" tunes that I end up playing down the road after I've stopped playing out the cut or cuts I initially bought the for. Also, because vinyl is expensive it tends to lend itself for quality control. I generally like to buy records that have at least two tunes that I'm going to play.

I spend a fair amount of time imagining what might be going on at the venue, what time I'm going to play, and who else is on the line-up and then kind of go from there and start pulling records to pack as well as practice. I do my best to pack an eclectic bag. Most of the records I end up buying have tunes for peak time situations as well as some "side" room action, so even if I miss the mark things end up going well most of the time.

I never play a set that's thought out or prepared. I do listen to the music I have all the time and practice enough that I know what they sound like in the mix.



Releases >>
Monday Off Arthur Kimskii - Verbal Variance - MOFF003

Forthcoming >>
include tracks contributed to Jamaica Suk's Gradient Sound , Sophia Saze's Dusk & Haze as well as Mysteries of the Deep.

2020 will see the return of L.A.G. with Cory James' return to the label as a solo artist.
---
ARTHUR KIMSKII PRODUCER AND VINLY DJ
BASED IN WASHINGTON, DC

The most memorable dj gig in your career:

Arthur Kimskii: Wow, there's a few that standout, but I'd have to say the Record Loft's Mayday party in 2014. I started working there a couple of months after moving to Berlin and was asked to open this party making it the 1st time I was playing with the crew. It was my 1st Berlin spring as well as my 1st Mayday.

We set up everything in the courtyard in the back of the shop. It ended up being one of the wildest events that I'd ever been to or been a part of. Jon Hester played after me. Chris Mitchell, Amir Alexander, Florian Kupfer, Radio Slave and Nina Kraviz all played. Nina played last and then Jon and I ended up closing the party. It then ended up moving inside where Hinode kicked things off and then Spencer Parker played for 4 or 5 hours. It was a wild, fun affair.

We love you track "Verbal Variance" on Monday off record. It sounds like you mixed field recordings in the track. Can you tell us your creative process when your producing?

Arthur Kimskii: Thanks, that's really sweet to hear. It was the 1st track I made once I returned to the U.S. from Berlin in December of 2016.

I'll get to playing with a sample or something that I've come up on a soft synth and then just start sound designing. After I really start enjoying something I'll add a kick, then other percussion. The pads or synth leads generally will be the last thing I end up with. From there I'll listen to the loop for probably too much time and finally hit record and finally get to the arrangement. I've been pretty much just using Ableton to produce along with some plug ins. I've had a bad habit of buying various gear through out the years, not use it and then practically just give it away to a friend for a nominal fee just to get into the hands of someone who will use it. I bought the Digital by Elektron over a year ago. I 'm determined to learn how to use it and not let it end up having the same fate.

Can you tell us more about Tar & Feathered?

Arthur Kimskii: Tar & Feathered was an event series that I did with Gio Gulez and Cory James. I've always had the habit of throwing events but then end up being burned out from them rather quickly. I'm always flirting with the idea of doing them once I stop though. Thus was the case in 2012 after I visited Berlin and went to Berghain. I heard Virginia play for either her 1st or one of the 1st gigs she played in Panorama Bar after being named a resident.

I loved the energy she brought in the room and knew that I wanted to book her if and when I started doing events again.

Cory and I had been living together in Bushwick and were working on tunes together. He knew that I was getting the itch to throw a party, so we hit up Gio who we had done a few one offs here and there with. For our 1st event we booked Taimur Agha who was still in the thick of things with Blkmarket and as one of the buyers at Halcyon and brought in ASC as our main headliner. ASC was known mostly for experimental Drum and Bass but had been releasing more techno orientated tunes on labels such as Perc Trax and Mote Evolver. Cory and I closed the party and Gio opened.

Before the party we were hit up by Andrew Ryce from RA who wanted to know about the concept.

The concept was just to book artists that might not sound like they would pair well on paper but would flow into each other in practice. We also hosted Virginia along with Anthony Parasole, Shifted for his N. American debut with DJ Qu, we also brought James What and Monty Luke.

We were going to do an event with Sigha and Appleblim. We met up to discuss this event and to layout the next few. It was at this meeting that we realized that none of us were happy as we started to neglect other factors that were actually driving us. For Cory and I it was production and launching a label, for Gio it was opening a venue.. I remember saying, if we go through this Sigha/Appleblim thing then there will be no turning back. We'll be married to this thing. So, we unexpectedly disbanded. In 2013 Gio was part of the team that opened TBA Brooklyn and Cory and I released our very 1st record "Sidewalks" as Point Break launching L.A.G.

What's your take on being a creative/musician living in New York/US?

Arthur Kimskii: Well, I lived in NYC from 2002 till 2013, went to Berlin from there and came back to the U.S. the last month of 2016 and ended up staying in my hometown, D.C.

Techno definitely grew and took off a bit in the U.S. after I went to Berlin. I was kinda blown away as you couldn't get away with playing techno at 8am back then as you can now. Europe generally has more of a infrastructure and understanding for events going into the following day. As anyone knows in the U.S. it's more of a D.I.Y. type game. The authorities generally are not supportive of what we do. It makes it a bit more special when you pull of an event here. I feel like Art in general has gotten better in the U.S. under the current political climate.
Tracklist:
Rush Plus - Staring At The Sun (Dustin Zahn remix) - E-Missions
Border One - Abyssal - Border One
Stef Mendesidis - Cyber Document -Klockworks
Electric Rescue - Autoxians (Jeroen Search remix) -Virgo
Möd3rn - Identity - Möd3rn Records
Rraph - Aquila - Black Brook Limited
Exium - Togo Togo - Nheoma
Wlderz - Contraste (Tensal remix) - Skryptöm
Cleric x Kmyle - Empty Shells ( James Ruskin remix) - Clergy
P.E.A.R.L. - Regrets - Black Codes
The Fock - Shat Pop ( Flood1 remix) - Lustwerk Music
Truncate - - Rings - Machine
Gotshell - 19 Caracteres (Flug Remix) - Suara
LSD- Process 7 - LSD
Rommek- Chase The Rush - Leyla Records
Anthony Rother -Polycentric - PSi49net
---

12072019.


Text. Chamberlain Zhang
Photo: Jeff Elstone (mix artowork photo)
CULTIVATED SOUND.